Welcome to the Official Website for the West Bradford Fire Company
100% Volunteer
---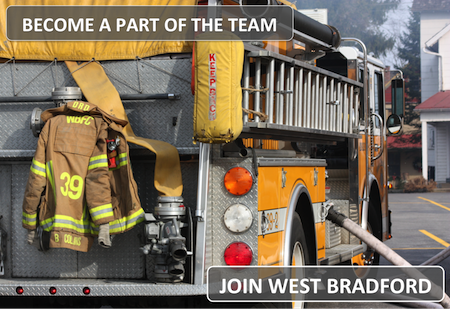 Founded November 10th, 1953, we are a 100% volunteer fire company providing fire/rescue and prevention services to West Bradford Township, East Bradford Township and Newlin Township. We provide mutual aid assistance to other fire/rescue companies and assistance in communty programs. We stand ready 24/7 to respond to your call for help and that of our community. Please take a moment to explore our web site and learn about who we are and what we do. Use the menu to the left to navigate the site. Recent news articles can be found below.
Please join us for the marshalton triathlon!
Day Room Project Continues

Brittani Johnson, September 14

Last month, John Follett, Dre Johnson and Brittani Johnson painted the Day-Room at substation. Today, the original, old and stained carpet was removed. After receiving many quotes on flooring from companies and contractors, a local Downingtown company was hired for the job.

Steve, owner of Stephen J Newman Jr Flooring, was the victim of a pick-up truck roll-over accident in West Bradford about 10 ... (Full Story & Photos)

National Car Seat Safety Week

Chief Jack Law III, September 13

In conjunction with National Car Seat Safety Week, we have been asked by Pennsylvania State Police Embreeville for the use of our sub station located at 1385 Campus Drive (at the corner of Marshallton -Thorndale and Poorhouse Roads) Downingtown PA to conduct Child Safety Seat Education. This service will be provided by Certified personnel and is free to the public and will consist of the proper installation ... (Full Story)




It's Triathlon Time!

Firefighter Benjamin Carrero, September 13

Are you ready to pedal, paddle, pace, and pedal?

The 42nd Annual Marshalton Triathlon will kick-off bright and early on Sunday Oct 4. Come out and enjoy a festive atmosphere in the beautiful community of Marshalton! The event includes vendors, food, and live music! It benefits the West Bradford Fire Company and the Marshalton Conservation Trust. The triathlon is the company's biggest fundraiser ... (Full Story)




Our Training Never Stops

Firefighter Benjamin Carrero, September 05

No single emergency response is exactly the same. New technologies and building materials demand that emergency responders continually adapt their methods to meet their community challenges. The West Bradford volunteers recently started a training series to address one of the community's biggest challenges; water rescues.

On Thursday members of the department completed the first awareness level ... (Full Story & Photos)

Dine to make a difference!

Fire Police Officer Debbi Follett, July 29

Dine To Support Your Local Fire Company
The Shadyside Tavern is hosting a dine and donate event to benefit West Bradford's 100% Volunteer Fire Co.

The events will be spread over 3 days, Friday 7/31, Saturday 8/1 and Sunday 8/2.
Enjoy good food, drinks, DJ and live music.
Come out to support your neighbors and volunteer firefighters that help keep our community safe.

Visit www.TheShadysideTavern.com ... (Full Story)




Do you have feedback? We want it! Please sign the guestbook.