Welcome to the Official Website for the West Bradford Fire Company
100% Volunteer
---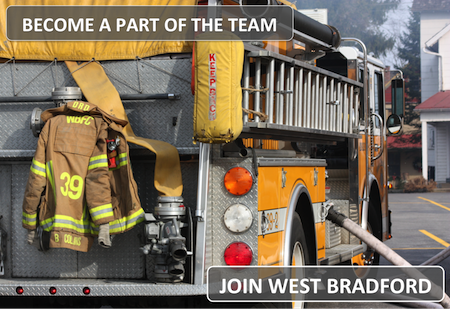 Founded November 10th, 1953, we are a 100% volunteer fire company providing fire/rescue and prevention services to West Bradford Township, East Bradford Township and Newlin Township. We provide mutual aid assistance to other fire/rescue companies and assistance in communty programs. We stand ready 24/7 to respond to your call for help and that of our community. Please take a moment to explore our web site and learn about who we are and what we do. Use the menu to the left to navigate the site. Recent news articles can be found below.
Marshalton triathlon coming soon
National Child Passenger Safety Month

Chief Jack Law III, September 17

September is Child Safety Passenger Month and to assist the Pennsylvania State Police Embreeville conduct their Child Seat Safety Inspections, we will be hosting an event at the West Bradford Fire Co Sub Station, located at the corner of Marshallton Thorndale Road and Poorhouse Road in West Bradford Twp. Please see the information below and also the attached flyer.


Pennsylvania State Police ... (Full Story)




Let Us Not Forget

Chief Jack Law III, September 10

This, September 11, 2016 will mark the 15th Anniversary of the attacks on the United States that changed the way we do things everyday. Many of us still remember that awful day, "Where we were, what we were doing?" That day there were thousands of individuals that lost their lives doing what they would do everyday; working, traveling, visiting or just walking down the street, things that we normally ... (Full Story & Photos)

Trimbleville Dedication

Chief Jack Law III, September 05

Trimbleville Dedication Program

Event Date: Sunday, September 11, 2016 - 1:00pm

The Battle of the Brandywine was the largest, longest and one of the bloodiest battles of the Revolutionary War. This coming September 11, 2016, 239 years to the day, the Friends of Martin's Tavern invites everyone to join them in the unveiling of the Trimbleville historical marker, commemorating the role the hamlet ... (Full Story & Photos)

Serious Accident

Chief Jack Law III, September 02

Thursday evening, just after the crews finished drill and were returning to their respective stations, Station 39 (West Bradford Fire Co), 55 Ambulance (Good Fellowship) and Medic 91 (Chester County Hospital) were dispatched to the area of Telegraph Road and W. Strasburg Road for the Automobile Accident reported serious. All units responded right after dispatch and Chief 39 (Law) arrived to find a ... (Full Story & Photos)

Its Getting Hot! Weather Safety

wbfc, July 20

Summertime is in full swing! Remember to keep hydrated and cool during these hot and humid summer days. Drink water and electrolytes constantly, whether you're performing an activity or not. Stay indoors and ensure to not leave anyone in a parked vehicle in the heat. This is very dangerous. Special attention should be given to those over 65 years old, infants and young children, and those physically ... (Full Story & Photos)


Do you have feedback? We want it! Please sign the guestbook.