National Weather Service Alerts for Chester County, PA
Welcome to the Official Website of the West Bradford Fire Company
100% Volunteer
---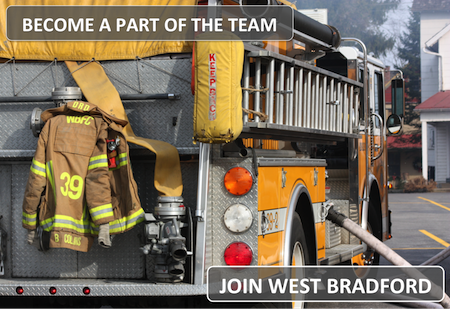 Founded November 10th, 1953, we are a 100% volunteer fire company providing fire/rescue and prevention services to West Bradford Township, East Bradford Township and Newlin Township. We provide mutual aid assistance to other fire/rescue companies and assistance in communty programs. We stand ready 24/7 to respond to your call for help and that of our community. Please take a moment to explore our web site and learn about who we are and what we do. Use the menu to the left to navigate the site. Recent news articles can be found below.

HAZMAT Incident in West Bradford

Firefighter Benjamin Carrero, January 11

West Bradford firefighters, along with the Chester County Hazardous Materials (HAZMAT) team (Station 15), responded to an hazardous materials incident on the 2000 block of Arrowhead Trail in West Bradford Township earlier today.

After filling a 500 gallon underground propane tank, the delivery driver was disconnecting the fill hose when the tank valve failed, resulting in an uncontrolled discharge ... (Full Story & Photos)

Happy New Year

Chief Jack Law III, December 31

The Officers and Members of the West Bradford Fire Co would like to wish everyone a Safe and Happy New Year for 2017. We would like to remind you to have a plan in place should you decide to celebrate this evening, as we do not want to meet you tonight by accident. ... (Full Story)




Icy Morning in Township

Firefighter Benjamin Carrero, December 17

West Bradford firefighters along with Good Fellowship Ambulance and the Pennsylvania State Police - Embreeville Barracks responded to an accident on Strasburg Road this morning. The single vehicle accident involved a partial rollover, and two patients were transported to Paoli Hospital (1 ALS and 1 BLS). Units remained on-scene for an hour before returning. ... (Full Story & Photos)

Santa Visit Cancelled

Firefighter Benjamin Carrero, December 17

After careful consideration, Santa's visit to West Bradford has been cancelled. Despite the efforts from Penn Dot and West Bradford salt crews, the road conditions are still unsafe. This is a decision we do not take lightly, and will look for other opportunities later in the week. Thank you for understanding!... (Full Story)




It's Official Santa will be visiting West Bradford Fire Co

Chief Jack Law III, November 26

The West Bradford Fire Company received a very important letter today, this letter is from an old friend of ours, Alabaster Snowball, he is the Elf in Charge at the North Pole and schedules visits for Santa, luckily we placed our order earlier this year so we will have Santa on two occasions at the West Bradford Fire Co. this year. The letter is attached so you can see for yourself that it is true, ... (Full Story & Photos)


Do you have feedback? We want it! Please sign the guestbook.