Welcome to the Official Website for the West Bradford Fire Company
100% Volunteer
---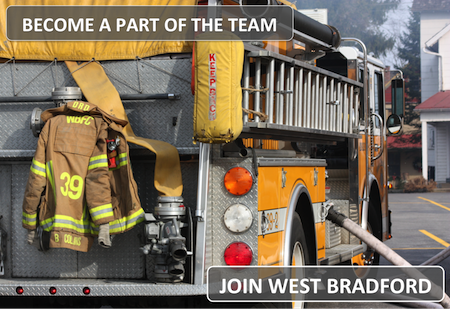 Founded November 10th, 1953, we are a 100% volunteer fire company providing fire/rescue and prevention services to West Bradford Township, East Bradford Township and Newlin Township. We provide mutual aid assistance to other fire/rescue companies and assistance in communty programs. We stand ready 24/7 to respond to your call for help and that of our community. Please take a moment to explore our web site and learn about who we are and what we do. Use the menu to the left to navigate the site. Recent news articles can be found below.

Memorial Day 2015

Chief Jack Law III, May 24

As many of us prepare for family gatherings, picnics and the beginning of summer, let us not forget why we enjoy those many things and much more because of the men and women that fought for our freedom. In today's society we tend to forget that we live our lives as we do because of what has transpired in the past. The men and women that have given of themselves and fought for our freedom knowing that ... (Full Story & Photos)

Water supply on a 3 alarm fire

Engineer Sohn Stark, May 12

Just before 1730 hours station 39 was dispatched for the Tanker and one engine to assist station 46 (Minquas) in the 100 block of Wallace Avenue on the first alarm tanker task force. With in minutes of the first dispatch, a second engine was requested on the second alarm tanker task force.

Tanker 39 and engine 39-1 made the response within minutes. Upon arrival the tanker started to assist supplying ... (Full Story & Photos)

West Bradford Day

Engineer Sohn Stark, May 11

West Bradford Day is this Sunday, May 17th! Broad Run Park
Noon-4pm
Petting zoo, Face painting, Pony rides, Fire Engines, Dunk tank, Music, Silent Auction and more.... (Full Story)




Dine to make a difference!

Fire Police Officer Debbi Follett, May 11

Dine To Support Your Local Fire Company
The Shadyside Tavern is hosting a dine and donate event to benefit West Bradford's 100% Volunteer Fire Co.

The events will be spread over 3 days, Friday 7/31, Saturday 8/1 and Sunday 8/2.
Enjoy good food, drinks, DJ and live music.
Come out to support your neighbors and volunteer firefighters that help keep our community safe.

Visit www.TheShadysideTavern.com ... (Full Story)




evening car accident

Engineer Sohn Stark, May 07

Shortly after 2230 station 39 was dispatched to the 1200 block of Old Shadyside Rd for the report of an accident

on arrival crews found a single vehicle accident and secured the hazzards on the vehicle and assisted the state police all units cleared the seen after apprimately an hour
... (Full Story & Photos)

Do you have feedback? We want it! Please sign the guestbook.