National Weather Service Alerts for Chester County, PA
Welcome to the Official Website for the West Bradford Fire Company
100% Volunteer
---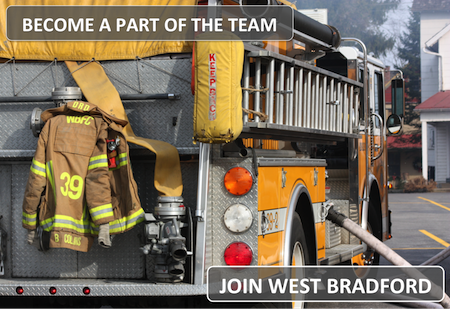 Founded November 10th, 1953, we are a 100% volunteer fire company providing fire/rescue and prevention services to West Bradford Township, East Bradford Township and Newlin Township. We provide mutual aid assistance to other fire/rescue companies and assistance in communty programs. We stand ready 24/7 to respond to your call for help and that of our community. Please take a moment to explore our web site and learn about who we are and what we do. Use the menu to the left to navigate the site. Recent news articles can be found below.
Happpy New Year!
from the officers and members of WBFC
Reminder: Clear snow from your fire hydrants!

Firefighter Benjamin Carrero, January 18

Rumors of a major snow storm hitting the south-eastern PA this week are making headlines. Please remember to remove snow from around your neighborhood fire hydrants.

Make the fire hydrants visible: ensure that your hydrants can be seen easily while driving through your neighborhood. High visibility colors and reflecting items will help first responders locate hydrants faster.

Make the ... (Full Story & Photos)

Accident with Entrapment

Chief Jack Law III, January 05

Shortly after 9:30 pm Monday evening Station's 39 (West Bradford) 46 EMS (Minquas) and Engine 46-2 (Minquas) were dispatched for the automobile accident on Skelp Level Road in the area of Winchester Trail, East Bradford Twp., as EMS, Chief 39 and Battalion 46 made the response the accident was upgraded to the vehicle overturned with entrapment. Battalion 46 arrived on the scene to report a vehicle ... (Full Story & Photos)


photo credit C. Semenza

Fire Alarm Upgraded

Engineer Sohn Stark, January 04

This afternoon, the West Bradford Volunteers were alerted to the 1100 block of Lone Eagle Road in West Bradford Township for an automatic fire alarm. Chief 39 (J Law) made a quick response and arrived to find a smoke condition in the residence. The Chief upgraded the assignment to a "Smoke Condition Inside" and requested an additional engine from Modena (Station 37). Crews from Engine 39-1, Engine ... (Full Story & Photos)

Santa Arrives by Fire Truck

Chief Jack Law III, December 17

We have just received word from the North Pole that Santa Claus has requested that the members of the West Bradford Fire Co, escort him around the township on one of our fire trucks to visit and give out candy canes to all the boys and girls and check their behavior, he has also requested that we act as his Elves as the real Elves as extremely busy preparing for the big day. This event will take place ... (Full Story & Photos)

Congrats Firefighter DeAndre Johnson

Firefighter Benjamin Carrero, November 28

Chester County has 26 new individuals that carry the title of "Interior Firefighter", and one of them is our very own!

Firefighter DeAndre Johnson and 25 of his classmates graduated Firefighter 1 at the Wagontown Fire Company (Station 35) on Thursday 19 Nov, 2015. Completing the 10 week, 172 hour course held at the Chester County Fire Training Center is a major milestone in each graduate's firefighting ... (Full Story)




Do you have feedback? We want it! Please sign the guestbook.