2018 Incidents
Jan
23
Feb
22
Mar
37
Apr
May
Jun
Jul
Aug
Sep
Oct
Nov
Dec
Total
82
Recent Years Incidents Totals
2017
318
2016
362
2015
332
2014
395
2013
340
2012
296
Web Counters
Website Visitors
Since
March 21, 2013

Visitors Today
Jul 21, 2018

National Weather Service Alerts for Chester County, PA
100% Volunteer
---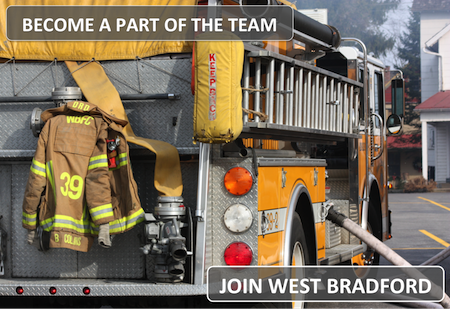 Back in Time

Chief Jack Law III, July 13

On Tuesday, July 10 2018, the parking lot of the Marshallton station was steaming, not only was the temperature hot and the humidity high, The Friends of Auburn Heights Preserve and the Marshall Steam Team held their 2018 Eastern Steam Car Tour and used the Marshallton station of the West Bradford Fire Co for a "pit stop". This tour consisted of various routes from less than 50 to more than 80 miles ... (Full Story & Photos)


Electrical Pole Fire

Busy July 3rd and 4th

Chief Jack Law III, July 05

As many of our area residents are aware, the West Bradford Twp area as well as some of our surrounding neighboring communities experienced heavy rain and winds on July 3rd. At approximately 6:30 pm July 3rd a strong line of storms moved through the area bringing heavy rain and high winds to parts of Chester County. The volunteers at West Bradford Fire Company began what would be a long list of emergency ... (Full Story & Photos)

Tanker Assist to WCFD

Chief Jack Law III, June 30

Friday afternoon at approximately 4:30pm, the company was dispatched for Tanker 39, to assist the West Chester Fire Department on a reported barn fire on W Strasburg Road in East Bradford Twp. The report was fire showing and the first arriving 51Engine laid approximately 1400 ft of five inch supply line up the driveway, while Engine 53 secured a water supply from the hydrant and Tanker 52, Tanker ... (Full Story & Photos)



Sam receiving his certificate from Instructor Carbo

Chester County Junior Public Safety Camp

Chief Jack Law III, June 30

Friday afternoon Chief Law attended the graduation for Apprentice Firefighter Sam Curdo at the Chester County Public Safety Training Center. This camp provides the juniors members, an opportunity to learn some of the basic skills and principles of the fire service, law enforcement and EMS. During the weeklong program the cadets learn hands only CPR, fire extinguisher training and this year had a field ... (Full Story & Photos)


Kids Camp "When Seconds Count"

Engineer Sohn Stark, June 25

Kids Camp Fire Experience 2018 is here.
It is time to mark your calendars for Kids Camp held at Christian Fire Company (Lancaster County) in Christiana, Pa. Kids camp is August 24th and 25th 2018. This gives the kids a first hand opportunity to step into the boots of a firefighter "when seconds count". Ask your kids if they want to attend, it will be a great experience.

Kids Fire Experience 2018:

To ... (Full Story & Photos)



A picture from the past, at Kids Camp with FF DiSalvo, giving instructions on the use of a portable fire extinguisher.


Do you have feedback? We want it! Please sign the guestbook.