2018 Incidents
Jan
23
Feb
22
Mar
37
Apr
May
Jun
Jul
Aug
Sep
Oct
Nov
Dec
Total
82
Recent Years Incidents Totals
2017
318
2016
362
2015
332
2014
395
2013
340
2012
296
Web Counters
Website Visitors
Since
March 21, 2013

Visitors Today
May 27, 2018

National Weather Service Alerts for Chester County, PA
100% Volunteer
---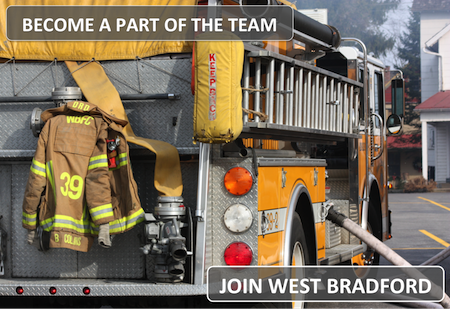 Memorial Day Rememberance

Chief Jack Law III, May 26

As most of us ready for picnics, family gatherings, parades and the day that marks the first official day of summer, "Let Us Not Forget", what Memorial Day is about. The Day was first observed in 1861 as Decoration Day, with the official observance occurring in 1868. The day began as the women would take flowers to the graves of those soldiers who lost their lives while fighting the wars. The name ... (Full Story & Photos)

Tree vs vehicle

Chief Jack Law III, May 21

Late Monday afternoon, WBFC and Minquas EMS were dispatched to the 400 block of Bradford Ave in West Bradford Twp for a single vehicle accident with the report of a tree that fell on a vehicle. Chief 39 arrived to find the vehicle out from under the tree and the driver shaken up. EMS transported the driver to a local hospital and the WBFC volunteers began the cleanup so that the road could be re-opened, ... (Full Story & Photos)

West Bradford Day

Chief Jack Law III, May 21

Sunday, May 20 the crews assembled shortly before 10:30 am to prepare for a important event within our community. The day began with an automatic fire alarm, and then clean up and preparations for West Bradford Day at Broad Run Park. We arrived a the park to begin set up and staging of the apparatus. We set up our Recruitment tent in hopes of gaining some new volunteer members, (maybe next time). ... (Full Story & Photos)



Some of the "Crew"

Traffic Circle Backup

Chief Jack Law III, May 19

Saturday morning at approximately 10:09, the Fire Police were requested to assist the State Police with traffic control at Stargazers Road and Strasburg Road, with a disabled tractor trailer. Upon arrival, the crews found a tractor trailer that had run off the road and became stuck in the mud, prohibiting west bound Strasburg Road travel. Crews set up a traffic pattern to allow motorists to continue ... (Full Story & Photos)

Mothers Day Flower Sale CANCELLED

Chief Jack Law III, May 12

Unfortunately due to an unforeseen circumstance our Annual Mothers Day Flower Sale is Cancelled. We are sorry for the inconvenience and we hope to have the sale next year.

The Officers and Members would like to wish you a Happy Mothers Day. ... (Full Story)





Do you have feedback? We want it! Please sign the guestbook.